Subscribe and get a FREE Hotone Blues Overdrive Pedal!
---
About the Hotone Blues Overdrive Amp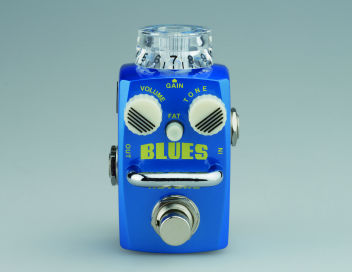 The Hotone Blues Overdrive pedal is one of the smallest pedals we have ever seen, but don't let that deceive you; it's not to be laughed at. The Hotone Blues is an overdrive stompbox for both guitarist and bassist, with full range frequency response to create the classic blues style – clear, transparent, and full of detail. Push the FAT button and you'll get a richer tone with much more low end.
Even thought it's only a third of the size of a standard pedal, it still boasts the same features and sound quality as you'd expect; reproducing a natural overdrive sound that has a distinct tone and remarkable dynamic expression. Made of Zinc alloy, this pedal is strong and hard wearing, along with its two-stage overdrive circuit, True Bypass footswitch, and revolutionary pedal design – this tiny pedal packs an incredible punch.
For more information, visit: www.hotoneaudio.com
---
Guitarist - Digital Editions
In addition to getting your monthly dose of Guitarist in physical form, we have also created a digital edition for you to enjoy on whatever device you want.

Choose from Apple, Zinio, Kindle Fire, or the B&N Nook.
---
MusicRadar.
Created by musicians for musicians, MusicRadar.com is the number one website for guitarists, drummers and producers. Check out the latest gear updates and artist news.
Read expert reviews on the best new kit. Play along with our expert video lessons or try our handy tips and projects. Add on our blogs, podcasts, competitions and a vibrant forum and MusicRadar.com has everything the modern musician could want!